The Nanotech West Lab of The Ohio State University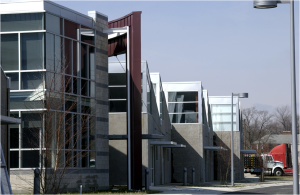 The Nanotech West Lab of Ohio State is the largest nanotechnology user facility in the state of Ohio. Serving both internal (Ohio State) and external users, Nanotech West supports more than 100 research and development projects per year including use many external users, predominantly startup companies in the Ohio region. Nanotech West consists of a 6,000 square foot class 100 cleanroom facility, a 4,000 square foot Biohybrid Laboratory, and other laboratory and office space and is located in the Science Village Building on Ohio State University's West Campus at 1381 Kinnear Road.
Nanotech West is staffed by 7 full-time engineers, 2 part-time support engineers, 1 full-time administrator, and additional Associate Staff and engineering and office student interns. Most of the engineering Core Staff have extensive experience in semiconductor or closely related industries.
The cleanroom facility is a 100mm wafer (and small parts) process flow that features state-of-the-art lithography, etch, deposition, and III-V epitaxial growth capabilities, among others. A full list of capabilities and their primary staff contacts can be found here. As a user facility, in the cleanroom, engineering staff maintain equipment and train users in its safe usage and also provide process development assistance.
The Biohybrid Laboratory supports both internal and external bio-based device fabrication and testing. Until 2015, it was the hub of Ohio State's NSF-sponsored Nanoscale Science and Engineering Center (NSEC), the Center for Affordable Nanoengineering of Polymeric Biomedical Devices (CANPBD).
In 2016, Science Village also became home to the Institute for Materials Research (IMR) Materials Innovation Greenhouse.  Additionally in 2016, portions of the current Biohybrid Laboratory space became home to much of OSU's new Energy Storage Hub as part of IMR's Materials and Manufacturing for Sustainability Discovery Theme awarded by OSU in August 2014.
The Lab is also home to the Ohio Sensors and Semiconductor Innovation Platform (OSSIP), funded by the Ohio Third Frontier / Ohio Development Services Agency. OSSIP engineers leverage existing technologies and create new ones at Nanotech West, working alongside member companies to develop new processes and products. OSSIP's goal is to generate new high tech products for Ohio based companies and thereby increase the number of high tech jobs in the State.
Nanotech West was the former base of the Ohio State node of the Ohio Wright Center for Photovoltaics Innovation and Commercialization (PVIC). With its other node at the University of Toledo, this Center was funded with $18.6M of Ohio Third Frontier Program funding and $29M in cost-share from its initial members that included Ohio industry, academia, and not-for-profit organizations. PVIC is now operating on membership funds from its numerous partners. PVIC, like the earlier Wright Center for Multifunctional Polymeric Nanomaterials and Devices (CMPND), has been a substantial source of capital funds for the Lab.
Nanotech West initially began in 2001 as the Ohio MicroMD Facility, targeted towards industrial bioMEMS technology development. It was the first academic lab in the US to have a biological capability – its Biohybrid Lab – coupled with a full-flow cleanroom microfabrication process capability. As nanofabrication capabilities and Ohio State usage increased the lab was renamed in 2005, also to reflect its location on the easily-accessible West Campus. Nanotech West is directed by Ohio State's Office of Research through Ohio State's Institute for Materials Research.